IPS Tech are approved installers of Pyronix/Hikvision security products. We do not subscribe to general institutional bodies and pride ourselves on over 25 years' experience in the security and monitoring industry.
Pyronix Enforcer Wireless Intruder Alarm Systems
The Pyronix Enforcer wireless alarm is one of the most advanced wireless burglar alarm systems on the market today. The Enforcer v10 includes features like built-in WiFi for Internet connectivity and cloud access, dual frequency two way communication with anti-jamming technology and support for up to 32 zones without expanders.
Unlike many other wireless alarm systems that offer basic features that don't meet insurance approval standards the Pyronix Enforcer has been designed for professional use and offers advanced features that make it suitable for professional installation and insurance graded alarm systems.
The Pyronix Cloud
One of the most popular features of the Pyronix Enforcer intruder alarm is the ability to connect the alarm to the Pyronix Cloud which enables remote control and monitoring of the alarm from a mobile or tablet using the ProControl+ mobile App. This not only gives you instant notifications if your alarm is set, unset or activated it also enables you to silence and control individual devices from anywhere.
When coupled with a Pyronix internal WiFi camera users can react to an alarm activation and get real time visual verification before deciding to silence or reset the alarm.
Use of the Pyronix cloud is subject to a low cost annual subscription which is free for the first year for new customers. Repeat subscriptions can be purchased from Pyronix direct or through an authorised installer.
Pyronix Enforcer Wireless Devices
The Pyronix Enforcer family of products can be coupled with a wide range of detectors, sensors, accessories and control equipment that benefit from secure and reliable wireless technology as well as between 2 and 3 year battery life.
1. Wireless Intrusion Detectors and Sensors
Pyronix offer a range of advanced wireless detectors and sensors for intrusion detection.
Motion detectors include pet immune detectors that ignore small pets, dual-tech detectors with advanced microwave detection, long range and narrow beam detectors and outdoor motion sensors. They also include door and window contacts that are available with or without integrated shock sensors.
View the range of Pyronix wireless detectors and sensors here.
2. Wireless Environment Sensors
The Pyronix Enforcer can also be expanded with environment sensors including smoke detectors, CO2 detectors and water leak detectors.
3. Wireless Arming and Disarming Devices
There are multiple ways you can operate your Pyronix Enforcer alarm apart from the built-in keypad on the panel including remote wireless keypads, wireless keyfobs, proximity tags or by using the Pyronix mobile App.
Pyronix Professional Graded Hybrid Alarm Systems
Pyronix hybrid alarm panels accept multiple hard wired zones while also being able to accept wireless zones and devices with an optional wireless extender. A Pyronix hybrid alarm panel allows older hard wired alarm systems to be upgraded with modern features like cloud connectivity and wireless detection zones or devices.
With lower equipment costs and no batteries to replace a wired alarm system can be a good option when existing cables are installed or new cables can be installed without disruption.
The Pyronix hybrid alarms work with a wide range of hard wired detectors and sensors from almost any brand as well as Pyronix Enforcer wireless devices.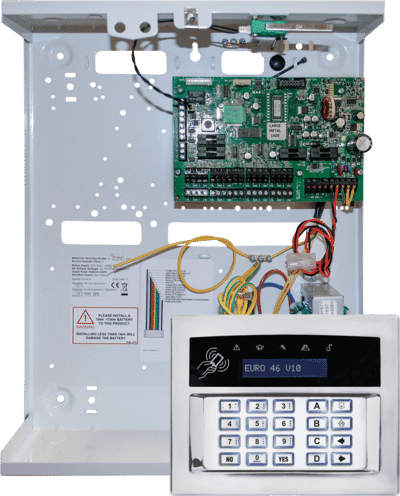 Common Questions about Pyronix Intruder Alarm Systems?
Is it easy to install a Pyronix wireless alarm system?
The wireless and wired Pyronix alarms are professional products that have many advanced configuration options that are necessary to meet the requirements of an insurance grade alarm system. While the wireless system removes some of the complexity associated with installing a hard wired alarm system, configuration still requires a good understanding of professional alarm systems. It is also worth noting that the connection of the panel to the mains should always be carried out by a qualified electrician.
How long do the batteries last in the wireless devices?
The batteries in most Pyronix Enforcer wireless devices will last between 2 and 3 years although it is good practice to replace batteries annually to ensure batteries don't run low.
What is the range of the wireless detectors and sensors?
The Pyronix Enforcer wireless devices use a very efficient and effective low frequency channel which gives them a theoretical range in open air with line of sight of over 1km. In reality in a building depending on the construction etc the range is likely to be between 50 and 75 metres.